Easiest Way To Learn Guitar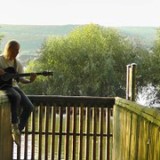 If you're a beginning guitarist, as all guitarists were at one point, and you want to know the easiest way to learn how to play the guitar by yourself, then you're going to need to start with beginner guitar lessons.  That makes obvious sense.  There is no reason to waste money on a program designed for intermediate or advanced if you haven't yet covered the basics.  Doing that will just end up in frustration and you'll probably end up giving up altogether.
We here at Emerson Music have researched some of the more popular (and also some of the lesser -known) programs out there and are confident we have come up with some of the best resources for  beginning guitarists.
NEW YORK CITY GUITAR SCHOOL
NYC Guitar School started in 2004 as an actual physical school in New York so if you're in the NY area you may actually want to stop in and check it out.  They have several locations in and around the various boroughs of NY.  They have expanded from one small classroom to several and gone from one instructor (who is also trained in education) to over 30 in a span of over ten years, so we feel justified in saying that they must be doing something right.
Now they've also made their instruction available on the web with their online guitar lessons, so all of their videos can be viewed from any web-based browser.  Some of the videos were filmed strictly for the online students while others were actually filmed in the classrooms themselves.
Here then is our NYC Guitar School Review:
NYC Guitar School's courses are definitely geared towards the beginning guitar player.  There is some somewhat intermediate content but we feel there are other options for guitarists who have had some playing experience already.  Having said that, it is a great course for you beginners out there.
The course starts out with modules for those who have never even held a guitar before and gets you acquainted with the parts of the guitar, how to hold it properly and get the best results from the other lessons which follow .
These are some of the basics that will get you up and running (or rather playing) quickly.
Strum Patterns and where to use them
Barre Chords…what they are, how to use them and how to practice them
Basic Chord Progressions taken from popular music
Chord Voicings
How to fret properly (and no I don't mean worry in case you don't know what fretting on a guitar is)
Intro to fingerpicking
And here are some of the other features of the course overall which will expand your playing ability and give you loads of material to improve your practice time and overall enjoyment of the experience.
Lots of play-along to popular songs that we all know
Resource section with songs, licks, chords, strum patterns, as well as technical stuff for the guitar
How to design a good practice routine and practice smart (they call it deliberate practice)
Great section on the blues and an intro to playing lead guitar.
And finally, a few thoughts about how the courses are delivered.
Most of the videos are reasonably short. They tackle one issue, one technique, one chord progression, etc.
Nice option to purchase either single courses or bundles of courses at a discount
Option to purchase a monthly access to the online courses.